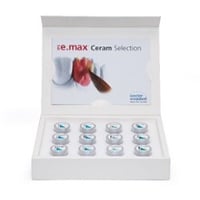 IPS e.max Ceram Selection Master Series
The new IPS e.max Ceram Selection range comprises special Enamel and Effect powders that are characterized by their vibrant colors and impressive light-optical properties. The materials are used in combination with the existing IPS e.max Ceram materials to take color control to the next level. Masterful characteristics are created quickly and easily with these powders and restorations exhibit highly esthetic, lifelike features.
Experts collaborated in the development
A team of highly esteemed dental technicians consisting of Oliver Brix (Germany), August Bruguera (Spain) and Gérald Ubassy (France) played a key role in the development of IPS e.max Ceram Selection. Each of them created special blends which were developed from years of mixing and perfecting. These proprietary mixtures and application techniques are now available for you to enjoy in your practice. The starter kit (684732EN) contains all twelve of the new powders along with a technique booklet which will get you on your way to creating beautiful restorations your dentists and patients will love.
The twelve shades are divided into three groups according to their light-optical properties:
Special Enamel
The Special Enamel powders come in six shades and exhibit enamel-like translucency. They are available in the following shades: aqua, citrine, honey, apricot, quartz and diamond.
Citrine, honey, apricot and quartz are used to adjust the saturation and chroma of the restoration and to accentuate the enamel area. Aqua is an intensely colored enamel powder that highlights the bluish translucent appearance of incisal edges. Diamond is the ideal universal incisal material for the anterior region.
Light Reflector
The Light Reflector materials are light reflecting Effect powders and are available in the following shades: silk, salmon and cream.
Silk increases the brightness of the incisal area. Salmon and cream are suitable for imitating the color of reflecting areas in the cervical and incisal third.
Light Absorber
The Light Absorber materials are light absorbing Effect powders and are available in the following shades: fog, lavender and taupe.
Fog reduces the brightness of the incisal area. Lavender and taupe are used to create light absorbing areas in the incisal and cervical third and in proximal edges.
Click here to order your Master Series kit today!