Ivoclar Vivadent and Harvest Dental announced today that they have formed a strategic partnership. As part of that announcement, Ivoclar Vivadent will now promote and distribute Harvest Dental laboratory products.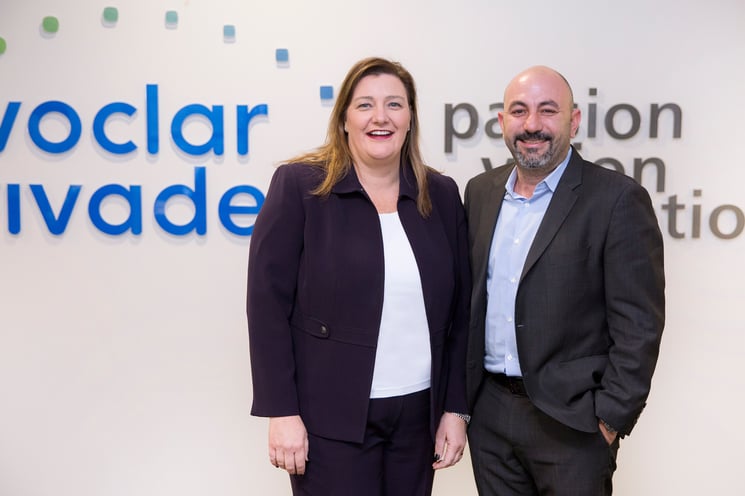 Sarah Anders COO of Ivoclar Vivadent, Inc. forms a strategic partnership with Sasha Der Avanessian from Harvest Dental.
"This partnership symbolizes our continued support of bringing innovative products and services to the dental laboratory profession," said COO Sarah Anders. "Harvest Dental has a unique line of products that technicians from all around the world love to use. This partnership enhances our product portfolio and our mission of making quality esthetic dentistry the standard of care."
Founded in 2004, Harvest Dental has become one of the fastest growing consumable brands in the world. Conceived to disrupt status-quo ways of thinking, Harvest designs charismatic and inspired products with a focus on being culturally relevant, rather than preferred. The company deeply values lab life, and exists to help dental technicians find a better way to the perfect restoration.
"Ivoclar Vivadent views the dental world in a unique and profound way that is very attractive to us," said Sasha Der Avanessian, CEO Harvest Dental. "They're a visionary company that lives to uncover new technical insights through an esthetic lens, and their leadership position speaks for itself."
Leading Harvest brands include:
Temp Esthetic - a beautifully layered PMMA for esthetic provisionals.
Wax Press - a premium modeling wax offering synergy between digital and analog workflows.
Fusion - an exquisite line of veneering brushes made of a hybrid Kolinsky.
Surfactant - a friendly wetting agent for pressing ceramic patterns with high definition.
P3 - a one step rotary polisher that shines e.max and zirconia in seconds.
Yellostone - a rotary abrasive for detailed contouring of e.max and zirconia.
Super Peg II - a firing putty for all-ceramics that eliminates challenging cleanup.
"This is a great opportunity for Harvest," added Der Avanessian, "We can now fully align our products and future developments with the Ivoclar materials that inspire all of us, creating long-term synergies and exciting new avenues for growth."
As part of this partnership, laboratories will be able to purchase these products by calling Ivoclar Vivadent (800-533-6825) or visiting our website at www.ivoclarvivadent.us