Since the late 1950's porcelain fused to metal (PFM) has been the gold standard for full coverage crowns because of its strength and longevity. Over time however, tissue surrounding a PFM restoration recesses and margins are exposed, which is not esthetically pleasing. Therefore, the demand for all-ceramic restorations has increased.
Today a dentist can use IPS e.max® CAD with confidence knowing they are placing a durable, highly esthetic material that has proven clinical success and can be used for most indications. An in-vitro fatigue test study by New York University concludes IPS e.max CAD crowns are comparable to the gold standard, i.e. Metal ceramics.
The Reliability Study Results:
Method:
The fatigue behavior and reliability of monolithic CAD/CAM-fabricated crowns made of IPS e.max CAD (LS2) were investigated in comparison with veneered crowns made of zirconium oxide and conventional metal-ceramic (PFM). There were crowns with an occlusal thickness of 1 mm, 2 mm, a framework of 1.5 mm and a thin buccal veneer of .5 mm. The crowns were adhesively cemented onto an aged, dentin-type composite die using Multilink® Automix. The test specimens were stored in water for at least seven days prior to the fatigue tests. During the fatigue tests, the crowns were subjected to a tungsten carbide piston that moved from the disto-buccal cusp 0.7 mm in the lingual direction in order to simulate occlusal movements.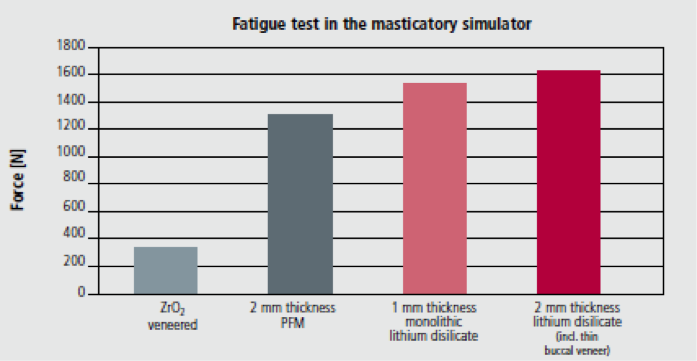 Summary:
The fracture load of monolithic IPS e.max CAD (LS2) restorations was 1535 N for IPS e.max CAD 1 mm and 1610 N for IPS e.max CAD 2 mm. These values are comparable to those of metal-ceramic (1304 N) and higher than those of veneered zirconium oxide (371 N). IPS e.max CAD material showed the highest reliability.
IPS e.max CAD offers the latest in all-ceramic technology combined with world-wide clinical success.
Make your next restoration with confidence. Make it with IPS e.max CAD.
To read the full version of the IPS e.max Scientific Report Volume 2 click here.