You just seated another beautiful IPS e.max® crown. The excess cement has been removed and now you start to cure the cement through the restoration in segments, starting with the proximal margins. Do you ever wonder how much light actually penetrates through the restoration and reaches the cement?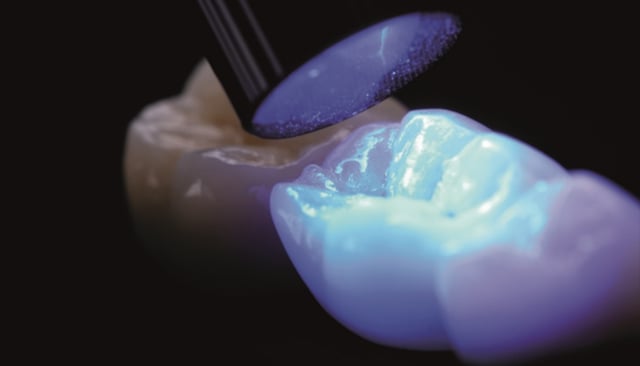 If so, your concern is a valid one because light intensity indeed decreases as it travels through the restoration. You could get an idea of just how much light gets through the restoration by doing this simple test:
Ask your ceramics specialist, or lab technician to help you mill small ceramic chips of various thickness and shades
Test your curing light using a radiometer such as Bluephase® Meter II and note the measured light intensity
Then place one of the chips on the meter and emit the light through the chip to see how the light intensity drastically decreases
Light intensity of at least 400 mW/cm2 is required to activate the photo initiators in the cement, enabling full polymerization.
There is a way you could put your mind at ease and know that the cement will fully polymerize. Simply use a curing light such as the new Bluephase Style 20i, designed to cure more effectively through ceramic restorations, along with a dual-cure cement such as Variolink® Esthetic DC. Bluephase® Style 20i has light intensity of 1,200 mW/cm2 and boosts up to 2,000 mW/cm2 in Turbo mode. As you could see from the chart below, depending on the shade and thickness, the light intensity remains above 400 mW/cm2. In the cases where the light intensity dips below 400 mW/cm2 the dual-cure cement will continue to fully polymerize.
Advantages of the Bluephase® Style 20i
Up to 2,000 mW/cm2 in TURBO mode for an efficient polymerization through ceramic restorations
Slim, ergonomic and lightweight design
The short curing time of only 5 seconds helps to boost practice productivity and patient satisfaction
Polywave™ technology provides a broadband spectrum of 385-515nm, which allows you to polymerize all light curing dental materials on the market today!1